Maine Sire Stakes racing took center stage at Scarborough Downs on Sunday as the 2-year-old championships were decided in four distinct splits, raced for purses in excess of $52,000 per division. A large and enthusiastic crowd gathered at the Seaside Oval to bear witness to the event and they were rewarded for their patronage by outstanding performances both equine and human.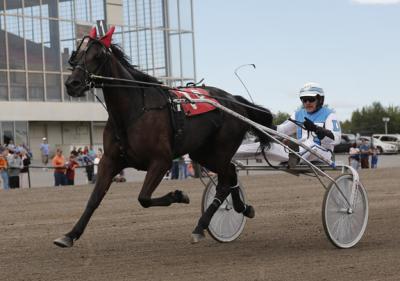 Derek Davis Photo
Song Of Virtue and Dude Goodblood cross the wire in the two year old filly trotter final in 2:05.1.
Heath Campbell got the day off to a popular start as he steered the prohibitive favorite, Obrigado, to his 8th consecutive win. The 2-year-old son of Boy Band, owned by Michael Andrew of Gorham, Maine, took a brand-new lifetime mark of 2:04 as he grabbed the easy lead and never looked back en route to grabbing the lion's share of the $52,264 purse in the Colts and Geldings Trotting final.
Campbell, who secured the catch drive in recent weeks, as trainer Ivan Davies opted to drive Wakefield Fire, stablemate to the eventual stakes champion.
"I'm not sure how I got this drive," Campbell remarked, "but I am thankful. He's a nice colt, does everything right, and surely will not be here in Maine after his 3-year-old season. He's good enough for the big league."
Bad Boy Bernie (Kim Ireland) was second, Wakefield Fire (Ivan Davies) was third.
Owner Mike Andrew doubled his stakes pleasure on Sunday, winning the $52,309 Filly Trotting final with his home-bred Boy Band filly, Song of Virtue. Just as a new driver engineered the winning strategy for Obrigado, Ruel Goodblood, Jr, was named to drive Song of Virtue; the first time anyone other than trainer Gordon Corey has sat behind the filly.
"It was a pleasant surprise to be asked to drive this filly in the final," Goodblood, said. "She's been well-kept, well-schooled and well-conditioned. It was just a pleasure to drive her."
Owner Mike Andrew said, "I've been fortunate to work with two top trot trainers here in Maine -- Ivan Davies and Gordon Corey. It's one thing to breed good Standardbred racehorses, it's another thing to find good people to entrust them with.
Song of Virtue secured a brand new trotting mark of 2:05.1, as she won for the 7th time in her career. Blazee Moving was second (Wallace Watson), Littleton's Dream (John Nason) was third.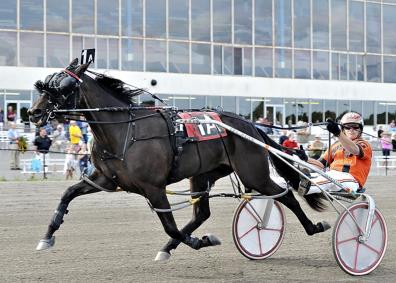 Michale Newman Photo
Pembroke Violet sets a new state record of 1:56.4 for two year old pacing fillies with Heath Campbell.
Act II of the Heath Campbell show commenced as the $52,259 Filly Pacing division stepped onto the raceway with Pembroke Violet claiming the starring role as she rallied strongly to secure her 4th consecutive win; this one timed in a track-record performance time of 1:56.4, supplanting the previous benchmark of 1:57.1 set by the incomparable Barbra Ann (Jason Bartlett) during the 2010 two-year-old finals.
The daughter of Baron Biltmore was bred and is co-owned by William Varney of Bangor in concert with trainer Valerie Grondin of Corinna, Maine.
"Hey, this is a good place to sit," remarked Heath Campbell upon his second trip to the Scarborough Downs' winner's circle. "But seriously, I didn't know she could be this fast, this young. But she does have two brothers who have gone in :48, so the speed carried through. I've never had a bad Baron Biltmore baby, they've all been good. He's definitely an undervalued stallion."
Darlington Stripe (Drew Campbell) was second, Lordy Miss Scarlet (Kevin Switzer, Jr.) was third.
Neutral Data wrapped up stakes activity on Sunday taking a brand new lifetime mark of 1:59.2 in the $52,381 Pacing Colt final; the son of Neutralize rallied to secure his third consecutive trip down victory lane. Catch driven by State-of Maine native and current top-rated Western New York driver, Shawn Gray, Neutral Data is owned by Harold and Nancy Dresser of Buxton, Maine.
"I drove him once at Windsor Fair -- he was pretty handy up there, but he really picked it up this afternoon," Gray said. "It didn't take a lot of convincing for me to come home to drive him today. It's always great to come home, especially when you have good horses to drive."
Stakes Championship Sunday concluded the summer portion of the meeting at Scarborough Downs; live racing action will be on hiatus until Friday, October 12th (12:05 pm post) as the fall meet commences. Featured that weekend will be the 3-year-old championship round of the Maine Breeders Stakes program.